Americans are set to vote in one of the most divisive presidential elections in decades, pitting incumbent Republican Donald Trump against his Democratic challenger Joe Biden.
The first polls will open from 05:00 EDT (10:00 GMT) in Vermont.
Nearly 100 million people have already cast their ballots in early voting, putting the country on course for its highest turnout in a century.
Both rivals spent the final hours of the race rallying in key swing states.
National polls give a firm lead to Mr Biden, but it is a closer race in the states that could decide the outcome.
In the US election, voters decide state-level contests rather than an overall single national one.
To be elected president, a candidate must win at least 270 votes in what is called the electoral college. Each US state gets a certain number of votes partly based on its population and there are a total of 538 up for grabs.
This system explains why it is possible for a candidate to win the most votes nationally – like Hillary Clinton did in 2016 – but still lose the election.
Tuesday's vote comes amid the ongoing coronavirus pandemic. The US has recorded more cases and more deaths than any other country worldwide, reporting more than 84,000 new infections on Monday alone.
As the nation counts down the hours to the vote, there are fears that pockets of post-election violence could break out. 
Where were Biden and Trump campaigning in the final hours?
On Monday, President Trump sprinted through four more battleground states.
In North Carolina, he told supporters that "next year will be the greatest economic year in the history of our country".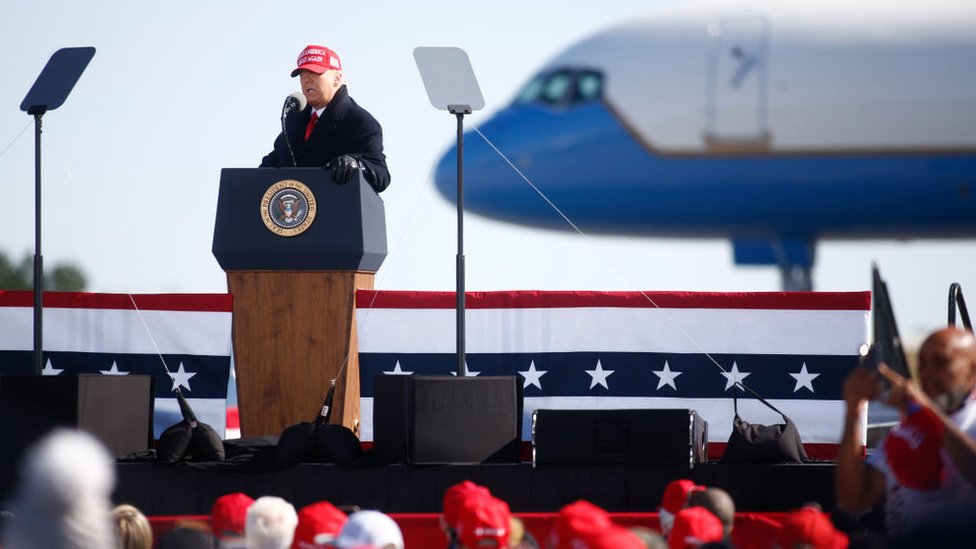 The US economy saw record-breaking 33% growth in the third financial quarter of this year, following a record 31% contraction in the second amid the coronavirus crisis. Economists warn the damage inflicted by the pandemic – the biggest decline in the US economy in more than 80 years – could still take years to overcome.
After North Carolina, Mr Trump headed to Scranton, Pennsylvania, the city where his opponent lived until he was 10. At a rally there he reminded his supporters that he won the state in 2016, despite polls suggesting he would lose.
Mr Biden also went to Pennsylvania where he was joined by singer Lady Gaga at a rally in Pittsburgh. Musician John Legend addressed voters with vice-presidential candidate Kamala Harris.
In Ohio, Mr Biden repeated the core message of his campaign, telling voters that the race was about the soul of America. He said it was time for Mr Trump to "pack his bags", saying "we're done with the tweets, the anger, the hate, the failure, the irresponsibility".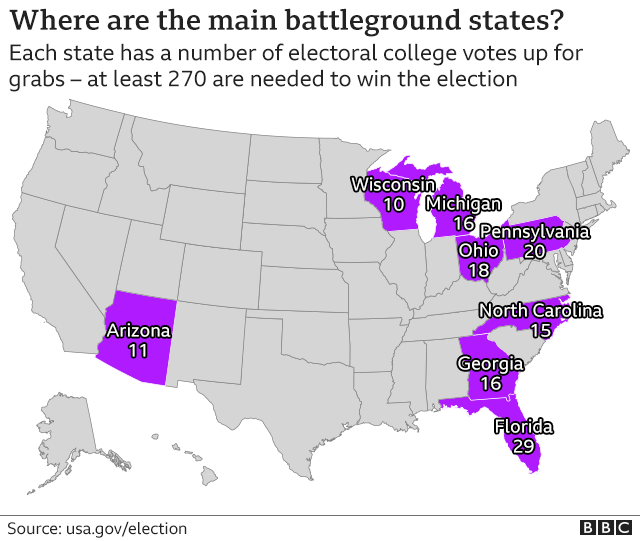 On Monday, Mr Trump also held rallies in Traverse City, Michigan, and Kenosha, Wisconsin. Kenosha was rocked by violent protests in August after the police shooting of a black man.
In Traverse City he asked for the votes of black Americans.
The president travelled to Grand Rapids, Michigan for his last rally, the same city where he held the final event of the 2016 election race.
Mr Trump and his campaign have, meanwhile, indicated they will sue to block the potentially pivotal state of Pennsylvania from counting postal ballots received three days after the election.
The US Supreme Court allowed a lower court ruling granting the extended deadline to stand, but several conservative justices signalled they might be open to revisiting the issue after the vote.
Legal fights over ballots have also been unfolding in Minnesota, North Carolina and Texas.
Are we going to get a result on election night as usual?
It can take several days for every vote to be counted after any US presidential election, but it is usually pretty clear who the winner is by the early hours of the following morning.
In 2016, Donald Trump took to the stage in New York at about 03:00 local time to give his victory speech in front of a crowd of jubilant supporters.
But do not set your alarm clocks just yet. Officials are already warning that we may have to wait longer – possibly days, even weeks – for the result this year because of the expected surge in postal ballots.
The last time the result was not clear within a few hours was in 2000, when the winner was not confirmed until a Supreme Court ruling was made a month later.
The president is to host an election night party inside the White House with about 400 guests invited.
Up to 10,000 protesters are expected to gather on election night at Black Lives Matter Plaza and a park not far from the White House, according to CBS News.
Mr Biden and Ms Harris will watch the election night returns in the former vice-president's hometown of Wilmington, Delaware.
Different states have different rules for how – and when – to count postal ballots, meaning there will be large gaps between them in terms of reporting results. In some states it will take weeks to get complete results.
On Sunday, a report by news site Axios said Mr Trump would declare victory on Tuesday night if it looked as if he was ahead.
Mr Trump denied the report, but said that counting ballots after election day was a "terrible thing".
Meanwhile, Mr Biden vowed to stop President Trump "stealing" the election.
How do the candidates differ in what they are offering?
The two rivals have radically different policies on several key issues.
On the coronavirus outbreak, Mr Trump set up a task force in January which he says has now shifted its focus to "safety and opening up our country". The president is also prioritising the speedy development of Covid treatments and vaccines, directing $10bn towards such projects.
Mr Biden wants to set up a national contact-tracing programme, establish at least 10 testing centres in every state, and provide free coronavirus testing to all. He supports a nationwide mask mandate, which would require face coverings to be worn on federal property.
On climate change, Mr Trump, being a sceptic, wants to expand non-renewable energy, and he has committed to withdrawing from the Paris Climate Accord.
Mr Biden says he would immediately re-join the Paris deal, and he also wants the US to reach net zero emissions by 2050.
On the economy, Mr Trump has pledged to create 10 million jobs in 10 months, as well as one million new small businesses. He wants to deliver an income tax cut, and provide companies with tax credits to incentivise them to keep jobs in the US.
Mr Biden wants to raise taxes for high earners to pay for investment in public services, but says the increase will only impact those earning over $400,000 a year. He supports raising the federal minimum wage to $15.
© 2020 BBC.